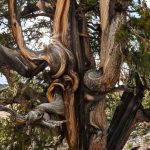 Bristlecone Pines are the oldest single living organisms known, living to longer than 5000 years. They grow in isolated groves, withstanding cold temperatures, dry soil and high winds.
This particular image is from the Ancient Bristlecone Pine Forest, located in the White Mountains above Bishop CA.
I was drawn to the curves of the branches, along with the color and texture of bark. As I walked around, I noticed the light shining through, seeming to breath life into this very old tree.
To view more California images, visit our California gallery page.