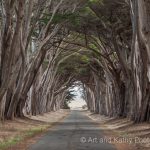 This tree tunnel, found in Point Reyes National Seashore, is formed by Monterey Cypress. Monterey Cypress is native to the central coast of California and often grow irregular and become flat-topped as the result of strong winds.
Point Reyes is the windiest place on the Pacific Coast and the second foggiest place on the North American continent.
As we took this image, the sun partially broke through the fog and lit up the canopy.
To view more California images, visit our California gallery page.