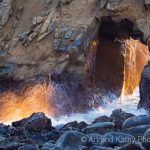 Pfeiffer State Beach, located just south of Big Sur along the California coast, is a popular location for photographers, especially during December/January. During that time, the sun sets in the right spot that it shines through Pfeiffer Arch. If the weather conditions are right, it may create a shaft of golden light or it may light up sprays of water as it splashes against the rocks.
We've been to this location many times over the years, and have walked away disappointed at times. This particular time, we weren't disappointed. We didn't catch the shaft of light, but we caught the splash of water being backlit by the sun, creating a fireworks-like display.
Some people have come into our booth thinking it's lava. Others say it looks like fireworks, even before seeing the title. What do you think?
To view more California images, visit our California gallery page.